Due disastri in cucina
Chef at home and Cooking class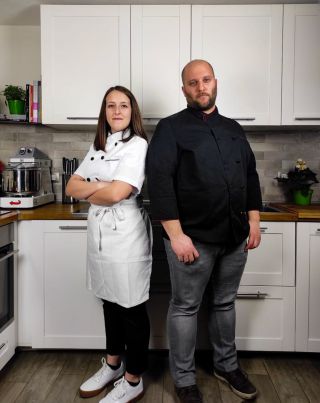 Matteo and Michela are two young guys with a great interest in cooking.
They approach this world out of curiosity and between good results, patience and good will, it becomes a real passion.
The collaboration with the Due Disastri stems from the desire to make known the delicacies of our territory, and beyond, to our guests: what better way to get to know a territory than to discover its flavors?
In addition to tasting excellent food, this experience will give you the opportunity to get to know the culinary tradition of our Lake Iseo more thoroughly and in an authentic way.
"We want to enhance the products of our land and share our passion", so they opened an Instagram profile @duedisastri_incucina, where they show part of what they prepare, some recipes and some curiosities.
They have devised culinary experiences with private services, an adventure, suitable for everyone, who wants to live and savor what our territory offers.
Their offer includes:

Lunches and dinners at home:
Menu always updated according to the season, prepared entirely by them and served directly at your apartment, remember that they will take care of everything, even as regards the cleaning of the kitchen, you just have to relax and taste their creations.
Cooking lessons in the comfort of your apartment during which you will get involved and Matteo and Michela will reveal their secrets for the preparation of traditional dishes: a useful and fun experience at the same time.
Breakfast and lunche box prepared by them that will be delivered directly to your apartment for a day backpacking or simply to not have to cook.
Info and bookings: mail: duedisastri.incucina@gmail.com, Whatsapp: +39 349 596 6511, +39 351 581 0994