Wine Experience
The "wine experience" project was born with the aim of introducing our guests to the local winemaking reality.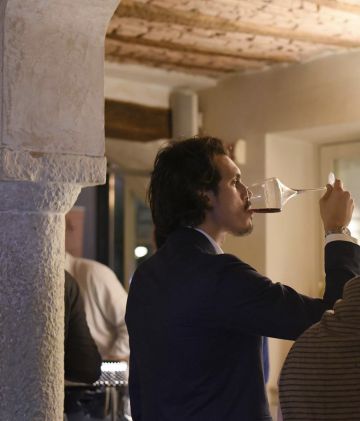 We have decided to integrate our offer with this experience as we strongly believe that to experience a territory it is necessary to discover its specialties.
Between Franciacorta and Val Camonica, our guests have just to choise.
We will offer you the opportunity to have a pleasant, useful and fun experience. Sight, smell and taste will be satisfied by intense flavors and captivating aromas!
Our guests will be able to taste a selection of local white, red and refined sparkling wines guided by an expert who will tell the link between wine, territory and tradition.
Federico Bianchi is the expert who will accompany you on this journey, to discover the wines of this small corner of the world. He took his first steps working in a restaurt then he specialized with a professional sommelier course A.I.S. (Italian Sommelier Association). He is driven by constant curiosity because, as he says, there is always something to discover in wine.
He will be happy to take you on this experience and tell you about the magic that can be savored in a glass.
Federico will meet you directly at your apartment to guide you in a tasting of three wines and tell you about the history and curiosities of local enology. The experience includes the tasting of selected wines accompanied by tastings of local products.
Federico will accompany you on an exclusive visit to a selected winery in Val Camonica or Franciacorta. The experience includes a tour to discover the fundamental steps to produce a good wine. You will be guided first to the vineyard and then to the winery. This experience will end with the tasting of the wines from the cellar together with the producer.
Info and bookings: mail: iseolakewinexperience@gmail.com, tel: +39 3473978010